Blog
Over 40 Years of Innovation, Quality, Safety
What is the best aftermarket suspension for my truck?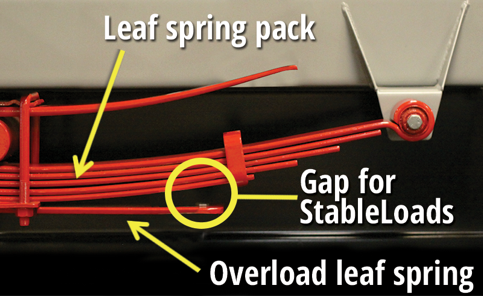 Once you start to tow or haul with your truck, pressure is applied on the factory overload springs of your vehicle's suspension. The leaf springs on your vehicle are designed as a spring pack with upper and lower overload leaf springs. When the vehicle is loaded the spring pack engages. The problem here is that there isn't enough stability to support the load, giving you scary handling characteristics.
Just a few you may have experienced:
- Side-to-Side Sway
- Body Roll
- Porpoising
- Truck Sag (This has a multitude of negative effects on your vehicle)
With lack of control you'll find yourself gripping your steering wheel hard. The key to getting the stability you need is harnessing the power within the much thicker, much stronger overload leaf springs. Activating the overload leaf springs gives you increased stability and handling while towing or hauling. How can you access this extra power? That's where the StableLoads save the day! Torklift's StableLoads fill the gap between the leaf spring pack and the overload leaf springs, pre-activating the stabilizing affects already built into your truck's suspension.
There are many suspension products on the market that you could consider. But how do you know what product you need? If you're experiencing more than one symptom, the StableLoad tackles all of the handling issues, instead of many of other products that just address one.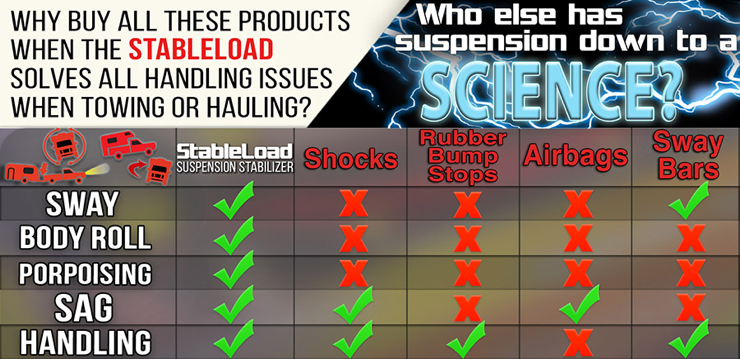 Let's explore the options for upgrading truck suspension:
Shocks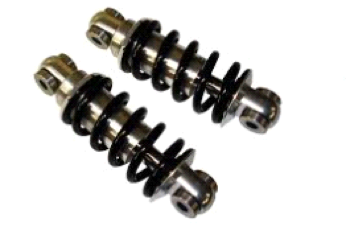 A shock is a mechanical or hydraulic device designed to absorb and damper shock impulses. It does this by converting the kinetic energy of the shock into heat which is then dissipated. Some shock absorbers allow tuning of the ride by control of the valve by manually adjusting the shock absorber. Manufacture's say that shocks typically need to be replaced at 50,000 miles.
Pros
• Suspension is adjustable
• Allows you to firm suspension while towing
Cons
• Shocks are expensive
• Maintenance is even more expensive
• Only solves one of many suspension problems you may be facing
• No lifetime warranty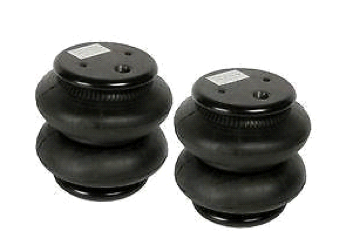 Airbags
Airbags are a type of vehicle suspension powered by an electric compressor. The compressor then pumps air into a flexible bellow that is typically made from textile-reinforced rubber. The air pressure will then inflate the bellows and raise the chassis from the axle. Air bags feature adjustable suspension, but usually need to be replaced between 50,000 and 70,000 miles and the price is high.
Pros
• The ability to lift/level a vehicle for towing
Cons
• Both initial purchase and maintenance is expensive
• With airbags you are reduced to two points of contact instead of four like the vehicle manufacturer intended
• Airbags are notorious for leaking problems – preventing them from holding air
• Only solves one of many suspension problems you may be facing
• No lifetime warranty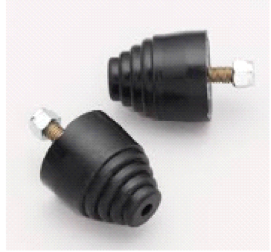 Bump stops
Bump stops are a compressed suspension component that is designed to prevent metal on metal contact that leads to damage or unsafe driving characteristics. As the suspension undergoes high compression such as hitting a speed bump or dipping into a pothole, the bump stop soaks up the shock. They can easily be shaped with common machining processes, but the downside is that they dissipate energy into the suspension which can actually cause your shocks to work harder, and they take longer to engage.
Pros
• Prevents metal on metal contact
• Absorbs jolts and bumps
Cons
• Bump stops take longer to engage
• Energy is dissipated into the suspension causing your shocks to work harder
• Only solves one of many suspension problems you may be facing
• No lifetime warranty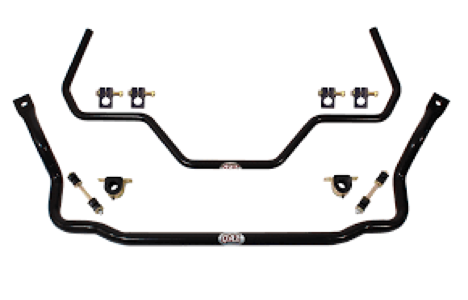 Sway bars
Sway bars help reduce the body roll of a vehicle during fast cornering or irregularities in the road. It connects the opposite wheels together through short lever arms linked by a torsion spring. Over time the sway bar link ball joints wear out and they will need to be replaced.
Pros
• Reduces body roll
Cons
• Increased weight transfer to already overloaded outside tires (reducing traction)
• Can cause cracked mounts
• Stiffens suspension contributing to a rougher ride
• Only solves one of many suspension problems you may be facing
• No lifetime warranty
Let's turn to science to see which suspension upgrade is most effective:
For this test an inclinometer is used to measure horizontal and vertical tilt. The higher the horizontal and vertical tilt register on the inclinometer the less control the driver has over the vehicle.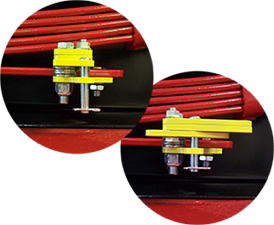 Why is the StableLoad the clear winner?
Unlike any other aftermarket suspension upgrade, StableLoads have a quad contact design while other rear suspension products reduce contact to only two points. With the StableLoads, see and feel a dramatic reduction in side-to-side sway, body roll. The StableLoads keep your vehicle level reducing stopping distance, suspension and tire wear. This creates for comfortable and stress free travel. It's also the only suspension upgrade you can turn on and off with the lower leaf spring design. Click here to learn more about how to engage and disengage the StableLoads in seconds so you can return to your smooth, factory ride when not towing or hauling.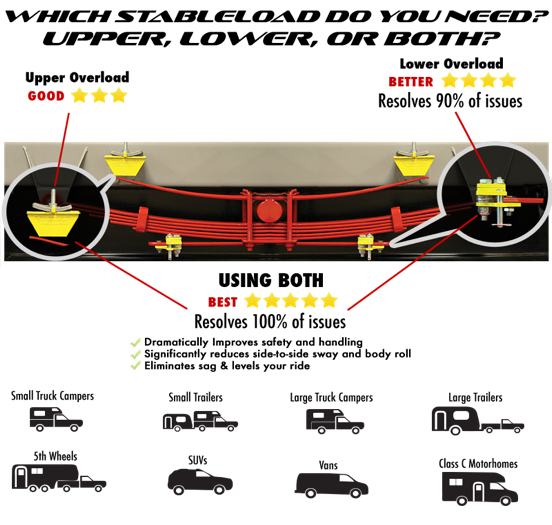 Pros
• Dramatically improves safety and handling while towing and hauling
• Reduces negative vehicle handling characteristics like side-to-side sway, body roll and porpoising
• Eliminates sag and levels your ride
• Ability to turn on and off in seconds*
• Quad contact design complements the vehicle's specially engineered suspension that automotive manufacturers have invested millions of dollars designing, while all other rear suspension products reduce contact to only two points
• Enhances airbag performance by lowering airbag overload air pressure and activating the factory overloads
• Legendary Lifetime Warranty includes coverage for the vehicle factory leaf springs
• Proudly made in the USA
*Applies only to the StableLoad Quick Disconnect (Lower Overload).
Many suspension upgrades come with just a limited warranty, but the StableLoads come with our Legendary Lifetime Warranty that not only covers the StableLoads but also covers the vehicle's factory leaf springs. We do this because we stand behind our product 100 percent.
NEW: 30 Day Money Back Guarantee!

Torklift provides a 30-day money back guarantee on the StableLoads no matter where they were purchased. If you are not satisfied with your product in the first 30 days, with a receipt a full refund will be given. This is in place to ensure you are happy with your purchase.
Click here for more information on our StableLoad suspension kits, contact us by emailing Tech Support at: support at torklift.com or by calling 800.246.8132.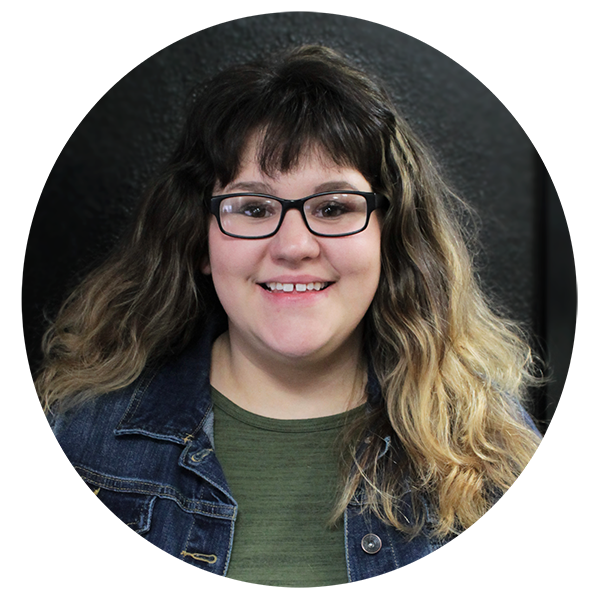 Written by Shyann Guerra:
Being in an environment in which I can problem solve is where I flourish. Every answer to a problem leads me to a new concept to understand or a lesson to learn. When I'm not solving problems I enjoy camping and going to festivals with my family - from the local city center festivals to the mountains of Wenatchee at the Winter Grass, blue grass music festival. Experiencing culture is where my heart is content.
'
Stay Informed
When you subscribe to the blog, we will send you an e-mail when there are new updates on the site so you wouldn't miss them.